31dbbb Day 1–The Elevator Pitch: It's What Close Families Is REALLY About
Posted: July 1, 2013
Filed under:
Blogging
| Tags: blogging, elevator pitch, emotional connections, family, writing
34 Comments
I've never attended a cocktail party; I have an anxiety for that kind of setting. But here is my longer version of an elevator pitch, should the occasion ever arise:
As the only female in our home, I'm a mom on a mission: to slip a little more veggies onto the dinner plates, to shoo everyone off the couch a little more often, and to create new ways for our family to make lasting, emotional connections. Surprisingly, they (usually) go along with it, and it's (mostly) working. They're teaching me a lot about myself too, and I'm not so proud that I won't share those insights with you.
I still like my shorter tag-line: "Closing the gaps between us and building a strong family unit" because it's short and exact… Or maybe it's because my six-year-old is begging me to play Minecraft with him and I've already revised the longer pitch 35 36 times.
Editors, bloggers, and typically-silent passersby… I'm certainly open to any advice on making an outstanding elevator pitch. And if you're asking yourself, "What the heck is an elevator pitch?" then you should click the badge below and find out! Just be sure to come back and give me some suggestions.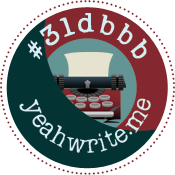 ---